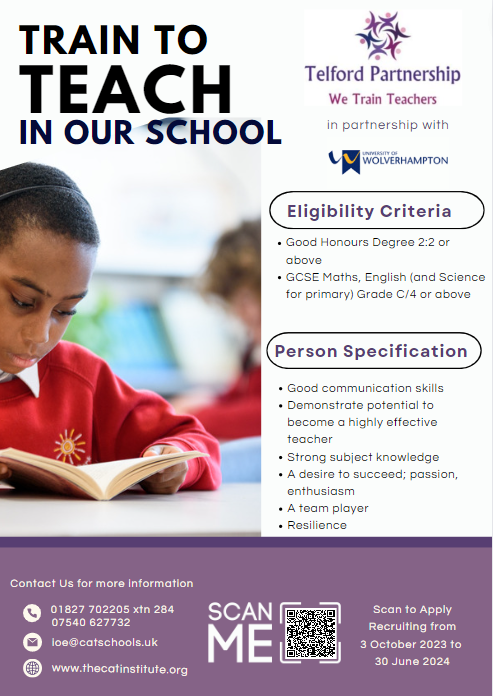 If you think Teaching is for you and you have a degree, come and talk to us at the TELFORD Partnership about a PGCE.
The Telford Partnership is a partnership between 4 Primary and 2 Secondary schools in Telford and Wolverhampton University. We offer school based PGCE teaching qualifications in a friendly and supportive partnership which we believe offers a great 'hands on' course in which to gain your PGCE.
Applications open from October to June to starting the course in September 2024.
If teaching is a career you are considering, come and see if the Telford Partnership can offer you the course you are looking for. Contact The Telford Partnership at ioe@catschools.uk to talk about how you can train to teach in this community.
We look forward to hearing from you.
Telford Partnership Schools - Primary
Windmill Primary School - https://www.windmillprimaryschool.co.uk/
St Georges C of E Primary School - https://www.stgeorgesschool.org.uk/
Ladygrove Primary School - https://ladygroveprimary.co.uk/
St Peter's CE Primary School - https://www.stpetersedgmond.co.uk/
Telford Partnership Schools - Secondary
Telford Langley School - https://www.telfordlangleyschool.co.uk/
Telford Priory School - https://www.telfordprioryschool.co.uk/